Comiskey Park II: No, I'm not about to start calling it whatever cellphone it's named after...
Ah,
Comiskey part deux U.S. SoxPark Cellular Telephone Field.
Or whatever they're trying to get us to call it now. The much-maligned "last of the futuristic ballparks", just missing the retro-crazy boat begun by
Camden
in Baltimore.
A few words of preface - Personally, I like some of the futuristic parks.
Kaufman Stadium
in KC, which Comiskey II was supposedly modeled after, is a gorgeous example of modern stadium architecture. Roofed stadia like
Miller Park
,
Safeco
and
Bank One
are not exactly retro, either, but fans love their charms and their conveniences. I think retro is overrated. What Retro really means is dank concourses, awful bathrooms, obstructed and uncomfortable seats, and awful fan access (Just wait, my
Wrigley Field
review is coming...)
So let's give "The Cell" an unbiased treatment, eh?
As far as
tickets
go, the good news is there are usually plenty available. Like, 20,000 or so. The Sox suffer in Chicago from an
unfriendly media
, a lower-income fan base, and a very negative perception of both the park and the surrounding neighborhood in Chicago (Let's set aside for the moment that crime rates are actually higher around the Urinal... whoops, I mean Wrigley...)
The bad news is, the tickets are generally
overpriced
. There are several budget promotions, but you have to be
a fan 'in the know'
to really take advantage. Mondays are half-priced (9 dates in all, you can see me there in Section 520, $7), While Tuesdays (12 dates) are 2 for 1 in the Upper Deck with a Pepsi product or UPC at the gate. See what I mean? Deals exist, but they make you work for them. On the other side of the coin, there are tiered "Prime", "Premier" and "Cubs" dates, which inflate the price of a normally $14 UD ticket to an obscene $28. Paying for parking is also a bad idea - as it runs $17. $3.50 will get you there and back on the
CTA Red Line
, less than a block from the park.
Adding insult to injury are the new "
Scout Seats
," which take about 200 formerly $40 seats and turn them into new, "exclusive" $170-200 seats. This, you see, is to add "value" for the fans. Your ass now has a pad under it, and you get parking, a restaurant-style dinner, and in-seat service for the price. Not that this is the worst deal ever (considering
parking and concession prices
), but it's just another rip against the budget conscious fan, of which the Sox have a plenitude.
Luckily, the Sox' very healthy scalper contingent will cut you a deal on most seats on the day of game. If you go this route, do NOT pay face or higher! Know your market, my friends. Best bet: Look for fans scalping extras. It should be pretty evident who the fans are and who the "professional" scalpers are. A fan will usually cut you a nice deal on their extras. Lord knows I've done it! Some words of caution, however: despite the fact that tumbleweeds blow through the seats half the time, Sox brass and security personnel are
very
strict about enforcing scalping rules, trying to sell parking passes, looking at them cockeyed, or breathing in the wrong direction. Many are off duty cops with a yen to harrass good, honest, hard-working folk like you and me. I recommend making all your transactions either online (craigslist.com or whitesoxinteractive.com are good bets) or on 35th street
west
of the railroad bridge - i.e. off Comiskey Park property.
Once inside though, you and your lighter wallet should enjoy things pretty well. Sox fans by and large are some of the best-informed, wittiest, and most passionate fans around. (Ahem.) Yes, they'll
pound your ass
if you wear Cubs paraphernalia. But what's so bad about that?
Views were originally unobstructed throughout, though
after renovation
some UD seats and a few CF seats now have minor obstructions. For budget-hounds, 520 and 544 close-up offer very nice views. Behind home plate in the UD is more expensive, but really offers a great view. On the lower deck, anything within the bases in the LD is pretty much golden. As you get into the foul lines and OF seats, however, the angle becomes a little uncomfortable. If it's a choice between a $14 UD seat and a $30 one down the line, I heartily recommend the UD tix for your neck's sake.
If you do spring for LD tix, a nice place to check out is the Fan Deck in center field. This is right above the batters eye, and offers bar style seating with a unique view of the park. Currently, Jerry Reinsdork and the whiz-kids in Sox marketing have not yet made people pay to go here. I advise you check it out before they do. Also fun for the kiddies is the new "
FUNdamentals
" section - sort of a mini baseball clinic for kids, with hitting, catching, and running instruction. This is located in a new grandstand thing over on the LF concourse.
Concourses and bathrooms are spacious, copious and clean. Rarely will you get caught in a big fan bottleneck (even on sellout days - yes they do happen, the Sox draw around 2 million a season).
Comiskey's food has long been thought the superior of Chicago's 2 parks. I can't disagree. For variety and for price, Comiskey far outstrips Wrigley. Dogs, Polish, brats, burgers, pizza, churros, elephant ears, cotton candy, ice cream, it's all good. Thursdays are dollar dog days, btw. For you carnivores out there, I highly recommend the Char Polish with Grilled Onions, available both LD and UD. Then I recommend a bypass operation. But I digress. Beer is Miller brand (bleargh), except for the "beers of the world" booth I can never seem to find. It runs $5.50.
On the in-game entertainment front, it's a mixed bag. There is way too much canned music for my taste, and the sound system is cranked to an ear-splitting, uncomfortable level, which leaves anything you actually wish to hear rife with distortion. For instance, strains of AC-DC will be seared into your cochlea for the rest of your life, while you'll be straining to hear what the heck Joey Cora says in "Who would play you in a movie?" The long-time organist, Nancy Faust, should be featured much more than she is. The scoreboard is in the middle of the pack as far as information goes. Out of town scores can be pretty out of date, as well. The video board is gorgeous, even when playing one of the Sox' many interminably long pregame videos.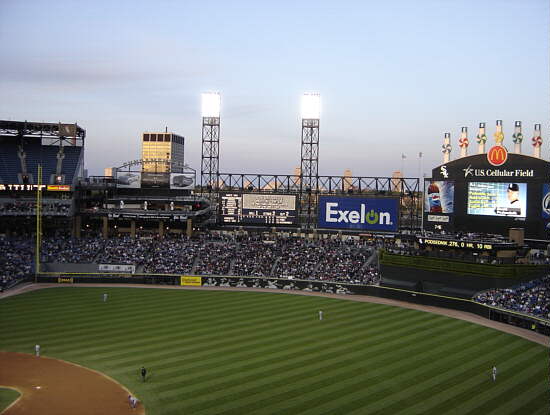 Souvenirs and scorecards are average for a ballpark, expect to pay $30 for a hat inside the park. Better deals for those in the know can be found 2 blocks west on 35th Street, at the "Grandstand" store. You can find hats for $20-$25 there.
Trading up is nigh to impossible at Comiskey II, which really galls me on a half-full day. For one thing, Upper Deck patrons are not allowed on the 100 level - a fan-unfriendly move if I ever saw one. Then, you have innumerable red-shirted drones pestering you to see your ticket. Sigh.
All in all, if you're willing to go a little out of the way both in terms of location and in terms of scouting out a deal, a Sox game is a superior baseball experience to the Flubbies up north. You'll pay less, have far less beer/vomit/urine splashed on you, and see a better team to boot.
The ratings:
Seat comfort: 4 - Most angles are favorable. New green seats are being installed throughout the season, so we'll see on this one. The current Blue seats are comfy compared to the average MLB seat.
Concessions: 5 - Some great stuff mixed with some average stuff. Prices are medium to low for MLB. Thursdays have dollar dogs.
Scoreboard: 4 - The originators of the "exploding" scoreboard, but it could use more info. And a clock which is visible from all seats (the current clock is obstructed to all but patrons in the UD).
P.A. system: 3 - Cranked to deafening levels of noise and distortion.
Ticket Prices: 3 - Deals exist, but they make you scrounge for it. Plenty of scalpers will "help" you out.
Exterior Architecture: 4 - A nice new Bauhaus-inspired UD windscreen and a new roof really spruced this place up.
Interior
Arch.
: 4 - Great seat locations/views, uninspiring views of the surroundings - turn the damn thing North!
Access: 5 - Easy in, easy out for CTA Red Line patrons, loads of pricey parking as well. Green Line is also close, making access a breeze even on the most crowded days.Sidewalks and concourses surrounding the park are spacious and well-landscaped.
Ushers: 3 - Not the brightest bulbs in the batch, but they do allow water and snacks to be carried in.
Trading up: 2 - Very restrictive and unfriendly policies. There are seats to be had though if you know how to act inconspicuously.


Points out of 50:
37